Massage therapy students across the country put their trust in "A+ rated" insurance coverage provided by Beauty & Bodywork Insurance (BBI). Our student massage insurance policy is specifically designed to give you the massage insurance coverage you need at a price that's hard to beat. For only $67/year, BBI wants to help you become the best professional massage therapist you can be without spending hundreds of dollars on student massage insurance.


Why You Need Insurance
As a massage therapy student, you are learning the intricate techniques of manipulating muscles to help clients find relief from chronic pain, a moment of relaxation, or simply a massage to improve their emotional and physical well-being. While many students are covered under their school's liability policy, many practice outside of class hours and off campus where accidents can and do happen. For this reason, it's important to have massage insurance coverage while enrolled in massage therapy school.
Student massage insurance protects you from general & professional liability claims. General & Professional liability claims include bodily injury, property damage, allergic reactions to oils, and more. While you may be cautious and attentive to details, risks of accident or injury are simply a part of becoming a massage therapist. Protecting your new profession and your assets, even while in school, is crucial.


Claims
Below is a list of claims filed with BBI.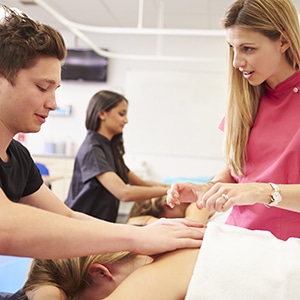 A client scheduled an appointment at the local massage school. During treatment, a student massage therapist accidentally damaged nerves in the right arm. A suit was filed against the insured and BBI covered $25,000 in damages.
While performing a hot stone massage, a student massage therapist accidentally burned the back of the client. A suit was filed and BBI covered $12,259 in damages.
A client scheduled a deep tissue massage at the local massage school. After the treatment, the client complained that the massage performed by the student left her with numbness in her limbs. A suit was filed and BBI covered $2,000 in damages.


Coverage Details
BBI's student massage insurance policy provides you with the coverage you need at an affordable price.
General & Professional Liability Aggregate Limit $3,000,000
Products & Completed Operations Aggregate Limit $3,000,000
General and Professional Liability – Each Occurrence Limit $2,000,000
Inland Marine/Business Personal Property Aggregate Limit $2,000


To qualify for the student policy rate, you must take at least 20 credit hours per week of classes and be no less than 30 days from graduation. No fine print. If you meet the previous two requirements, we encourage you to sign up and save money as you pursue your massage therapy education. And once you're fully certified and practicing on your own, we have a great massage insurance policy!