When it comes to providing exceptional massage services, the quality of your massage table is non-negotiable. After all, this is where your clients spend their time during sessions, and it directly impacts their comfort and overall experience. Whether you're just starting out or a seasoned professional looking to upgrade, finding the best massage table can feel like a daunting task given the array of choices available.
In this article, we're going to delve into our top picks for the best massage tables, explain how we determined our list, and provide a comprehensive guide on what to look for when buying a new massage table. Let's dive in!
A Breakdown of the Best Massage Tables
We've scoured the market and based on factors like build quality, adjustability, portability, and value for money, here are our top picks for the best massage tables:
Earthlite Harmony DX Portable Massage Table
Renowned as one of the best portable massage tables, the
Earthlite Harmony DX
boasts a lightweight, eco-friendly design that doesn't compromise on strength and stability. Its adjustable face cradle and plush cushioning ensure ultimate client comfort.
Master Massage 31" Montclair Therma-Top Portable Massage Table
Montclair Portable Massage Table comes with a built-in heating system, adding a warm touch to your massages. Its robust construction, coupled with its generous padding, make it a favorite among therapists.
Sierra Comfort All-Inclusive Portable Massage Table
If you're searching for the best budget massage table, look no further than the
All-Inclusive Portable Massage Table.
This table may be affordable, but it doesn't skimp on quality. It offers a sturdy build, a high-density foam deck, and a range of accessories.
Stronglite Olympia Portable Massage Table Package
Oakworks Advanta Portable Massage Table
A leading brand in the massage industry, the
Oakworks Advanta Portable Massage Table
brings a compact and lightweight design to the table with the Advanta. It's renowned for its ergonomic features, offering superior client and therapist comfort.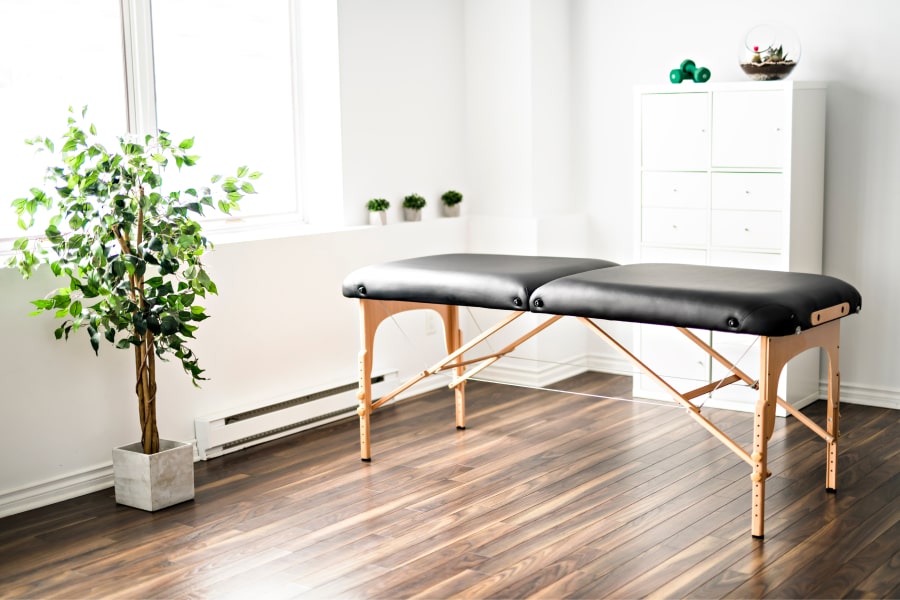 Our Rating Scale: How We Determined Our List
Choosing the best massage tables is a nuanced task that requires a careful assessment of multiple features and considerations. To bring you our top picks, we implemented a rigorous evaluation process, taking into account a blend of qualitative and quantitative criteria. Here is a more detailed look at our rating scale:
Material and Build Quality
First and foremost, we evaluated the tables based on their build quality. A massage table should not only be robust and sturdy but also designed to endure regular and sustained use. We looked at the quality of materials used – from the wood or aluminum of the frame to the durability of the upholstery. Tables that demonstrated excellent longevity and could support a significant amount of weight without any signs of instability scored high on our list.
We paid close attention to the elements contributing to client comfort. The quality and thickness of the padding play a pivotal role in this respect. A good massage table should provide enough cushioning to ensure the client's comfort during the massage session. Other comfort features like an adjustable face cradle, armrests, and extended width also scored additional points.
Adjustability and Portability
Therapist comfort is just as important as client comfort. Adjustable height is a critical factor here, allowing the therapist to position the table to their comfort level, thereby reducing the risk of strain during sessions. For those offering mobile massage services, the table's weight, ease of setup, and portability become significant factors. Tables that were lightweight, easy to fold, carry, and set up scored high in this category.
Lastly, we considered the value for money that each table offers. The best massage tables are those that balance top-notch features with a reasonable price tag. We favored high-quality tables that delivered great features, durability, and comfort without breaking the bank.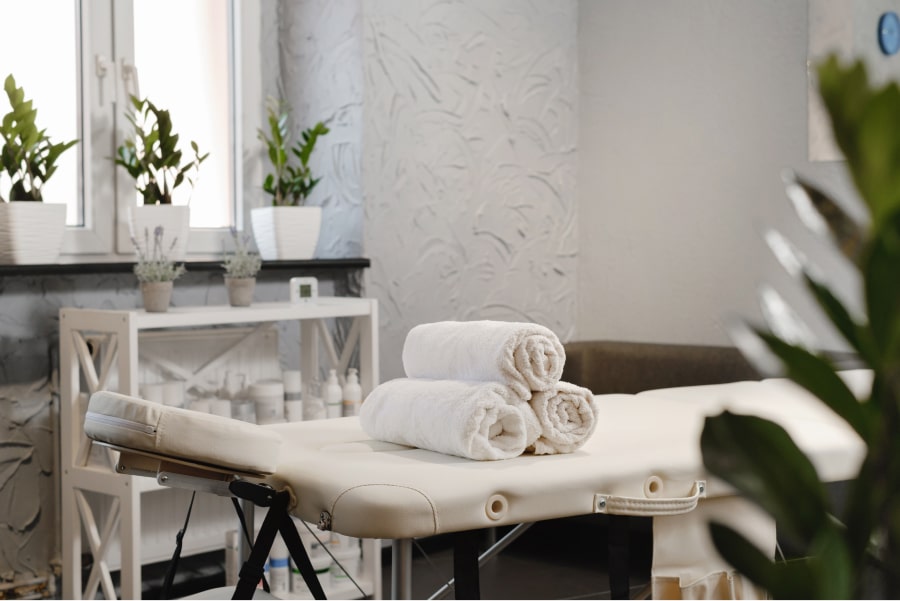 What to Look for in a Massage Table
Choosing a massage table goes beyond simply picking out renowned brands or the most expensive option. It's about discerning what meets your specific needs as a massage therapist. Your table should cater to the comfort of your clients while also offering you flexibility and durability in your practice.
Outlined in this comprehensive guide on how to choose a massage table, and in this additional insightful resource on choosing a massage table, the crucial factors to keep in mind are:
Weight and Portability: If you travel for your services, you need a lightweight, portable table.
Adjustability: You should be able to adjust the table's height for your comfort.
Materials: Look for durable frame materials and high-quality, easy-to-clean upholstery.
Size: Make sure the table's dimensions fit your clients comfortably.
By keeping these factors in mind, you can ensure that you choose a table that best aligns with your practice's needs, enhancing both your services and your clients' satisfaction.
Insurance: Protecting Your Investment
Investing in a top-quality massage table represents a significant step towards professional excellence. However, safeguarding that investment is equally crucial, if not more so. This is where massage insurance comes into play.
Massage therapy insurance can serve as a financial safety net for your practice. It provides coverage against a multitude of potential risks, such as damage to your equipment, including your prized massage table. With such coverage, you are protected against unforeseen circumstances that could damage your table and impact your business operation. Besides protecting your equipment, comprehensive massage insurance also covers liability claims that might arise from your services. In essence, this insurance is an all-encompassing safety net for your practice, ensuring you can provide your services with peace of mind.
Choosing the Right Massage Table for You
Selecting the best massage table for your massage therapy practice is a task that requires careful consideration of your unique needs and preferences. It's about balancing numerous factors – from client comfort to table adjustability, portability, and material quality. The ideal table should enhance your service provision while also prioritizing your comfort as a therapist.
However, remember that investing in your business is a multi-faceted endeavor. While buying the right equipment is a critical part of that, so is safeguarding your investment and your practice. Comprehensive massage therapy insurance can protect you from a host of unforeseen circumstances, ensuring that your business continues to thrive even in the face of adversity. This way, you're not just investing in a piece of equipment; you're investing in the long-term stability and success of your practice.