Tools and Supplies Coverage
Imagine the heart-wrenching moment when your essential tools, supplies, or inventory, the backbone of your business, are damaged, stolen, or lost. It's not just the monetary loss but also the disruption to your operations, the potential loss of customers, and the uphill battle to recover. This is where Beauty and Bodywork's Tools and Supplies, also known as Inland Marine, coverage comes in, providing the protection your business needs.
With the right Tools and Supplies coverage, you can protect yourself from the costs associated with replacing or repairing damaged or stolen business equipment.
What Is Inland Marine Insurance?
Inland Marine insurance, also known as tools and supplies coverage, is designed to protect the business property, tools, supplies, and inventory that are essential to your business operations. Despite its name, Inland Marine insurance doesn't solely cover assets transported over water (marine) but rather focuses on items that are stored or transported on land.
What does Inland Marine Insurance cover?
Inland Marine insurance coverage provides coverage for anything that is standard and customary to your industry. It offers protection for movable property, tools, supplies, and inventory that are crucial to your operations. For a beauty professional, this could include dryers, tables, warmers, chairs, kits and sets, bowls, lights, specialty tools, and more! It would not cover anything that is permanently attached to or part of the physical structure such as sinks.
Here are a few examples of the types of items typically covered by Inland Marine insurance:
Who Needs Inland Marine Insurance?
How Much Does Tools And Equipment Coverage Cost?
We believe that protecting your equipment should be affordable. This is why it is just an additional $16 to protect your brushes, facial beds, technician stools, steamers, wax warmers and supplies, carts, hot towel cabinets, and more. For that price, you'll get $2,000 in total coverage for the year (after a $100 deductible).
How Can I Purchase Inland Marine Insurance?
Purchasing Inland Marine insurance is quick and easy. You can purchase tools and equipment coverage in two different ways. 
Add Inland Marine insurance while filling out the Beauty and Bodywork Insurance application.
Add Inland Marine insurance through your user dashboard at any time.
How can Inland Marine Insurance help your business?
Inland Marine insurance offers several key benefits that can help safeguard your beauty business assets and support your operations:

By securing Inland Marine insurance, you ensure that your valuable beauty tools, equipment, and inventory are protected against various risks, including theft, damage, vandalism, and other unforeseen incidents. This coverage provides financial support for repairing or replacing these assets, minimizing the impact on your business.

Flexibility and Customization
Inland Marine insurance policies can be tailored to suit the unique needs of your beauty business. Whether you operate in the creation of esthetician-used creams, transportation of massage tables, or any other industry, coverage can be customized to address the specific risks and challenges you face, ensuring that your assets are adequately protected.

If an unforeseen event, such as a fire, theft, or natural disaster, causes damage or loss to your business assets, Inland Marine insurance can help expedite your recovery process. With the financial support provided by the policy, you can replace damaged equipment, replenish inventory, and resume operations more quickly, minimizing downtime and potential loss of revenue.

By having Inland Marine insurance in place, you gain peace of mind knowing that your beauty business supplies are covered. This confidence allows you to focus on running and growing your business without the constant worry of potential asset-related setbacks.
Why Do I Need Coverage For My Tools?
Without adequate coverage for your tools and supplies, your beauty business is exposed to a host of potential risks that can have devastating consequences. From damage and theft to loss due to unforeseen events, the impact on your operations and bottom line can be significant. Protecting your business assets with Tools and Supplies insurance is not just an option – it's a crucial safety net for your business.
Every day, businesses like yours face the reality of unexpected incidents that can disrupt operations and lead to financial loss. Consider the following potential risks.
Examples Of Inland Marine Claims
Listed below are a few examples of tools and equipment insurance claims.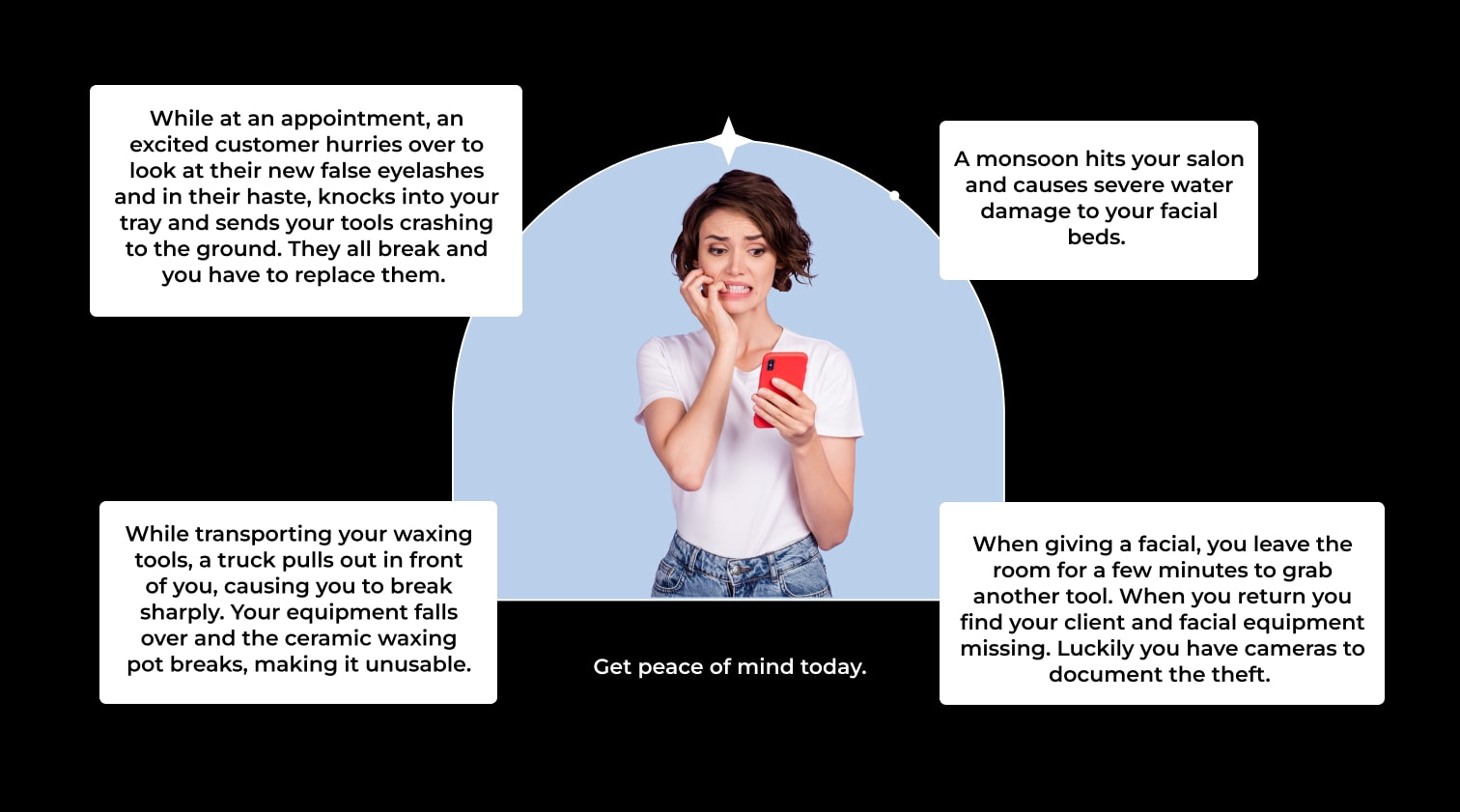 Examples Of Inland Marine Claims
Listed below are a few examples of tools and equipment insurance claims.

Safeguard Your Business Today
Protect your tools, supplies, and business assets with Tools and Supplies insurance. Don't leave your business vulnerable to potential risks, lawsuits, and financial burdens. Protect your beauty business today!
Here's what other people have to say about their experience from over 420+ available reviews.