Face & Body Paint by Larissa, business owner Larissa Symbouras, of Franklin Lake, New Jersey, has spent her years bringing joy to the lives of people young and old, by using her artistic abilities to create masterpieces on her client's faces and bodies.
Hero of the Day
Symbouras is a FACE certified face and body painter. She stumbled upon her career path when she was asked to save the day for her friend's little girl.   "The original entertainment for my friend's 7-year-old's birthday party backed out, and I had a clown outfit," said Symbouras.
"I wore the clown outfit and used face paint crayons to draw my clown face on. It was actually quite scary looking because I outlined my cheeks, my smile, everything in black. I don't know how I didn't terrify the children," she said.
"The kids just kept lining up and the parents asked what I charged," said Symbouras.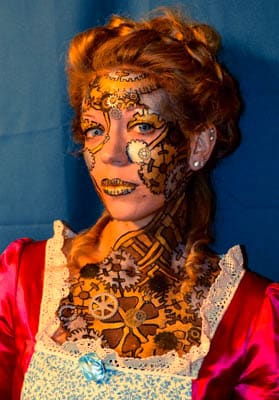 Artist at Birth, Body Painter by Happenstance
With a background in art, Symbouras knew she had a talent for painting.
"My mother was an artist; I was born into art," she said. "In college, I volunteered for the Starlight Children's Foundation, it's sort of like Make-A-Wish, but smaller. During that time, I went to the local hospital and painted the faces of the kids who were sick."
Divorce Attorney Turned Artist
However, Symbouras wasn't always a professional artist; she got her degree in politics and worked as a general practice attorney before taking the plunge into body painting.
"I used to work as a lawyer, but people don't clap when you walk into a courtroom…and they do when you walk into a party," she said.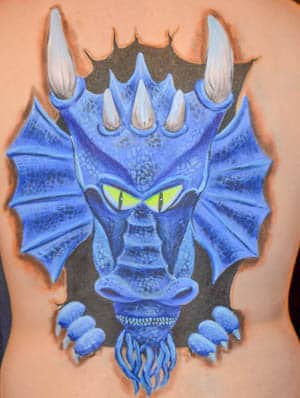 Advice to Hopefuls
Explore Profession Requirements
"I would've looked into it first. Thankfully, I started out using the proper products," said Symbouras.
There are specific products and brands that are designed specifically to be applied on the skin. Many body and face painters just use acrylic, which is an unsafe practice due to potential allergens. Symbouras has some advice for new face painters: stick to FDA compliant products.
Find Your Tribe
"When I started, I wish I would've known about the community," said Symbouras, who recommends looking for local guilds, Facebook and LinkedIn groups to connect with other professionals within the industry.
Establish Your Professional Credibility
This advice is helpful to more than face and body painters; It extends to all beauty and bodyworkers.
"If I bother to get insurance, it shows that I'm using FDA compliant makeup; it's another level of professionalism," said Symbouras.
"I love what I do. I love painting designs with oil on canvas, but when you hold up a mirror to a canvas it doesn't react. With people, they look surprised and happy even just if it's for that moment."
Click here to learn more about Larissa Symbouras.
Are you a beauty or bodywork professional in need of affordable, high quality insurance coverage? To learn more about Beauty & Bodywork Insurance, click here.