3 Tips for Your New Do
Whether you've had the same hairstyle for years or you just want to try something new, Soothe is here to share three tips with you so you can know which direction to take with your hair. As you think about your new style, you'll want to keep these three things in mind so you can feel confident with your new look.
1 – Collect Images of Hairstyles You Like
First, we recommend that you search on Pinterest or Instagram for inspiration of what you'd like your new style to look like. There are tens of thousands of hairstyles online, providing you with many options to choose from. You can also get ideas from your friends if they recently posted a style that you love. Wherever you find your inspiration,having a picture to go off for the style is helpful for you and the hairstylist
When selecting a picture of a hairstyle that you like, something important to keep in mind is the texture of your hair. If the texture of your hair differs greatly from the texture of the hair in the picture, it may not turn out the same. For example, having extra fine hair may limit your possibilities, especially with layers or long thick hair. Be sure that whatever pictures you take to the hairstylist, you absolutely love all of them.
2 – Consider Your Face Shape
Everyone has a different face shape, and some hairstyles look better with certain face shapes. Make sure that when your stylist is asking how you want your hair that you openly communicate. If they've already started cutting and you're unsure that the cut won't quite go with your face shape, that's something that you'll want to share with your stylist.
If your stylist is cutting your hair too short or in a style that you don't want, speak up! They are there to provide the service for you and they want it to be just perfect. Ask the stylist for their opinion if you are unsure. They have more experience in cutting and styling hair, and they'll have tips and wisdom to share with you.
3 – Ask yourself how much maintenance you're
willing to do
Each hair cut and style require different levels of maintenance. Before getting your haircut, you should think about how much time you have in the morning to style it. You may have to blow dry your hair a little more often than you're used to, or wash it more often. Another thing to consider is if your new cut will require more product. Maybe you'll need to use more gel or mousse, or have to purchase a new product so that it can look exactly how you want.
Make sure you ask your hairstylist about any new products that you should be using, so you can sustain your look. If you don't absolutely love your new cut, no worries! Hair grows back and with confidence, you can pull off any style you want.
Beauty and Bodywork Insurance offers hair stylist insurance for only $96 a year and the application can be filled out online in ten minutes or less.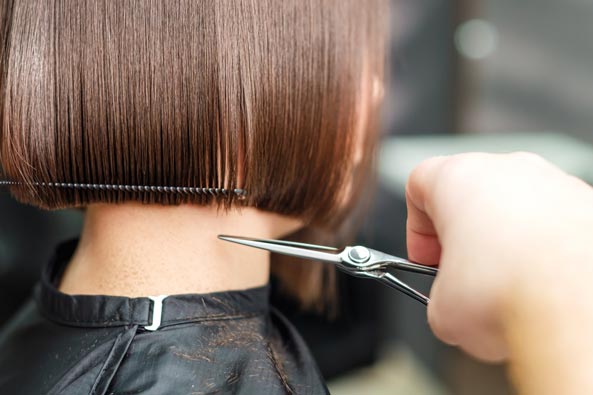 Soothe's Pros

Soothe's hairstylist pros are happy to come to your work or office and do that new style that you've been envisioning. Each pro is a licensed professional and is trained to make sure that the working space is clean and safe. Try out the above listed tips and schedule an appointment with a Soothe pro! Soothe's salon professionals will help you achieve the look you want and make you feel great. Not only do they cut hair, but they can do blowouts and updos! Click here to schedule your hair appointment with a Soothe pro today.